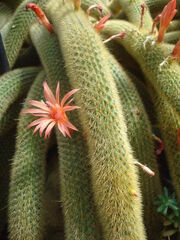 Cleistocactus winteri is a succulent of the Cactaceae family. Its common name is the golden rat tail. It is one of three species named rat tail cactus.
This plant forms huge tangled mounds of fairly rapid growth. It has many short bristly golden spines that literally cover the surface of the stems.
A very popular variety that is often grafted commercially is Cleistocactus Winteri var. Cristata, the crested variety. This produces uneven, chaotic, but visually fascinating growth. It is usually grafted onto the stem and root of Hylocereus undatus.
It has also been known as:
Hildewintera aureispina (F.Ritter) F.Ritter 1966
Winteria aureispina F.Ritter 1962
Winterocereus aureispinus (F.Ritter) Backeberg 1966
Loxanthocereus aureispinus (F.Ritter) Buxbaum 1974
Borzicactus aureispinus (F.Ritter) G.D.Rowley 1975
Cleistocactus aureispinus (F.Ritter) D.R.Hunt 1987 (n.v.publ. not Fric 1928 (C. baumannii).